For All Your Home Siding Needs
The siding on your home is one of the first things people will notice about it. Its color and texture, not to mention its condition, will make a statement about your home – and we want to help ensure it's positive.
Fargo Roofing & Siding is proud to offer top-tier siding installation services to customers in our community because we know that siding is more than just the exterior of your home. It protects what's inside while projecting your aesthetic to the world. You can rely on our team of professionals to deliver on our promise of customer satisfaction throughout choosing and installing siding for your home.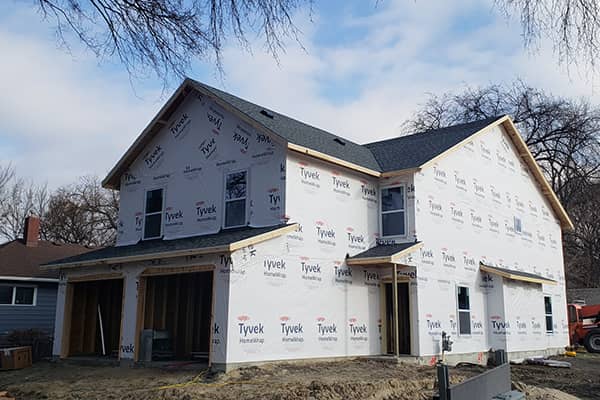 If you've experienced damage from extreme weather, we can also help assess and repair the damage. From small-scale to extensive repairs, you can trust our highly-trained team to restore your home to its former glory based on a thorough assessment and keeping in line with your needs.
Why You Should Consider Replacing Your Siding
If your siding isn't looking as great as it could be and you're looking for a way to improve your home significantly, new siding offers several benefits, including:
Optimizing your home's heating and cooling for better energy efficiency
Newer siding means less maintenance to worry about
More durable options mean better performance in harsh weather
A wide range of options and styles to choose from
A fresh makeover will instantly boost your home's curb appeal
With a quality residential siding installation, you can look forward to enjoying your beautiful home for years.
Let Our Experts Guide You
Choosing the right siding is essential if you're building a brand-new home. Our team of experts has the experience to guide you through selecting the right products for your needs and style and the technical knowledge to install your siding properly.
Choosing the Right Material
The dizzying array of products available today overwhelms even a seasoned homeowner. When you don't know where to start, Fargo Roofing & Siding can point you to quality options in various styles. Some of the most popular materials include vinyl, seamless steel and LP SmartSide.
Most people are familiar with vinyl siding, which is easy to install and requires little maintenance. But when you want to create the look and texture you've always dreamed of for your home, we can help you find the right products and install them correctly to maximize your home's beauty and durability.
Call Us for Your Siding Installation Today!
To get a free estimate or to have one of our friendly and knowledgeable contractors answer any questions you may have, give us a call at (701) 371-7204 today!