A letter from Chad & Cindy Koskela our 2020 Roofs for Veterans Recipient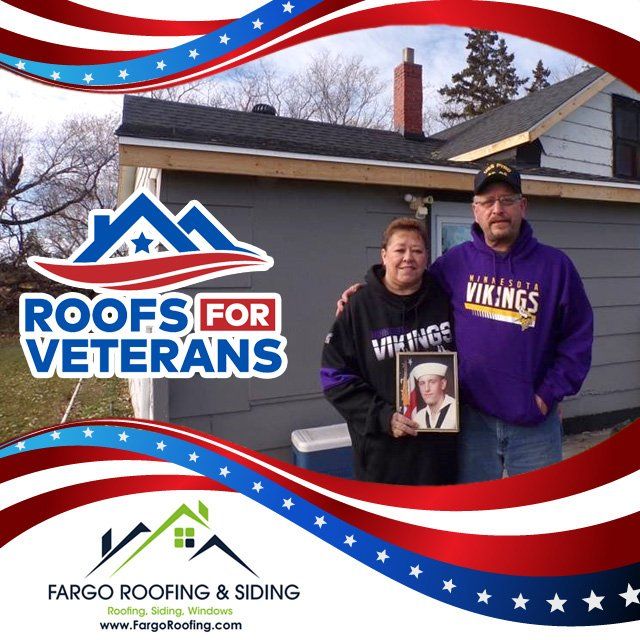 Fargo Roofing & Siding,
   You don't know how grateful and truly honored we are for what you guys are doing for us. My wife, Cindy, and I grew up in this area and graduated from Twin Valley High School. After High School I joined The U.S. Navy like my dad. I enlisted for 6 years and went to Steam and Turbines School in Great Lakes, IL. near Chicago. I served from 1986 to 1992. After school I was sent out to the West Coast, San Francisco Bay area, where I spent 5 years aboard the USS Pyro AE-24, an ammunition Ship. We did do a deployment in the Persian Gulf during Persian Gulf War.
   Once I got out of the service, I met up with Cindy and we got married a few months later and moved into the place you are helping us with. Not a new place but good enough for us. I have done a lot of changes to the house over the years and raised 3 great kids there. We did have a few miscarriages so Sierra and Wyatt were a godsend to us. I spent the last 10 out of 12 years commuting to Fargo, about  a 100 mile round trip, and last 2 years in Ada at Kelly's Chrysler, a lot closer. My wife worked at a nursing home as an LPN until health problems prevented her from working anymore. So we went some years on just my income until she was approved for disability.
   During this time the house had gotten neglected and is in bad need of some fixing up which we haven't been able to afford and isn't insured. This has always been a place where friends and family like to get away to and have a good time. It is actually kind of embarrassing how bad the roof had gotten and leaking inside. Every year it gets a little tougher going up and down the ladder due to knee problems. Since the kids moved out I have to do a lot of the work by myself since Cindy can't do very much lifting anymore.
   The kids and family thought what would it hurt to nominate us for your Roofing For Veterans. When we heard that not only are we getting a new roof but siding as well we have been in shock ever since and still can't believe it. Things like this just doesn't happen to us especially out here. The Red River Valley is the greatest place to live, which is why I came back after the Navy. Both our parents have passed on but I gotta believe they are watching out for us. For something like this to happen with everything going on in the world these days is heartwarming and everyone we know is just so happy for us. I want to thank you guys at FM Roofing and 107.9 The Fox, you have made us feel like Rockstars! You and Matt are awesome and I hope I get to meet you. Thanks again.
Sincerely, Chad Koskela